ABILITY
Issue #19
Close
The New Zealand Disability Karate Association Newsletter
Winter 2023
Tēnā koutou
Welcome to the Winter issue of the New Zealand Disability Karate Association newsletter.
Although it is still a bit cold in the evenings we can carry on training. That is because our dojo is always bright and warm.
Raksha Bandhan
We are taking part in Raksha Bandhan Festival at the High Commission of India. We will have a stand there promoting our services. This is a great opportunity to celebrate all the wonderful cultures around Wellington.
The festival will be at the High Commission of India on Pipitea Street. It starts at 2pm until 5pm on Saturday 2nd September 2023. Entry is free, it would be great to see you there.
Karate @ Manaaki
Our club has joined forces with the Manaaki Ability Trust. We are running karate training for their clients.

This is an amazing chance to grow our karate family. Manaaki Ability Trust classes are every Friday. They start at 1pm and are only for the Trust's clients.
I hope that over the summer both dojos will be able to meet up and train together. Look out for an announcement on the News and Events page.
Rainbro Learns Self-defence
The fourth book in the Rainbro series has been published! It is available on Amazon in paperback and as a Kindle eBook.
Any money made from book sales will go towards running the club.
The copies in the dojo will sold at the special price of $15, which is a saving of nine dollars.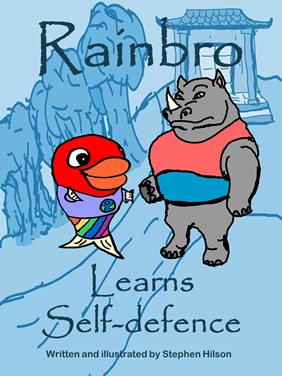 Book five will be out in November and continues Rainbro's karate adventures.
Who has graded?
There has been two gradings since our last newsletter. We have our first blue belts in the club!
We have 16 new members, some have already graded to yellow belt. The remaining white belts are likely to grade before the next newsletter.
In our club there are now
7 white belts (10th kyu)
19 yellow belts (9th kyu)
3 orange belts (8th kyu)
2 green belts (7th kyu)
4 blue belts (6th kyu)
What is coming up
Our plans for the next quarter
Complete the story for book five in the Rainbro series.
Finish work on the new information pack for schools and local businesses.
Sensei will be training in Okinawa in October for two weeks.
We are targeting businesses around Wellington for funding support.
Have a stand at the Raksha Bandhan Festival.
Grade our first Manaaki Ability Trust students.
Remember you can invite your friends along to class.
Look out for the Spring issue and feel free to share this newsletter with your friends.
Membership is free and open to anyone who wishes to take part in the martial arts training offered by the club. All the details are on our website. www.karatedojo.nz
KIA ORA!