Loading...


News and Events for the Last 30 Days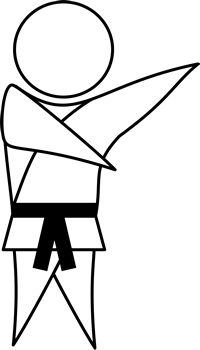 Home Training - Basic Strikes
1 April 2020
Here is the third home training video. In this video Sensei focuses on basic strikes. We see front back fist (ura uchi) in slow motion. Sensei uses these videos to find areas in his karate that need to be improved.

Watch Video
Home Training - Warm up and Strikes
30 March 2020
Here is the second home training video. We run through our standard warm up routine and than we look at some strike basics. Although I am training with BOB you can train by doing your strikes in the air as we do in the line drills.

We will not be doing the warm up on very video so please refer back to this video.

Watch Video
Home Training - Welcome
29 March 2020
Here is the very first home training video. Sensei shows you his little home dojo. And you get to meet his pet rats, River, Amy (her tail) and Rose.

There will be a new video every day or so. The next video will be on strikes and will include how to warm up before training.

Watch Video
The Virtual Ball Game
26 March 2020
I have started developing an online version of the Ball Game. There is not much to it at the moment. But I should have the first version in about a week. Your ideas on how to make it more fun would be fantastic.

Hopefully there will be something new each day. Sometimes it might break because I have messed up in my coding.

Enjoy!

Visit Website
All classes cancelled due to COVID-19
23 March 2020
I am very sorry to have to announce that we are suspending all classes until Wednesday 6th May, where we will re-assess the situation. This is from immediate effect so there is no class on Wednesday.

When the club reopens in May we will have an extra special class to celebrate Easter and the clubs birthday.

I will be posting training videos online so you can train at home and I will set up a google hangout so that we can get together. I am also working on an online version of the BALL GAME!

If you want to chat you can call or text me on 027 240 2717. I will miss you all terribly, so keep well and be kind to one another.
Update on COVID-19
20 March 2020
The person who was tested for Coronavirus COVID-19 has had their results back and they are clear.

This means that class will be back on next week. Thank you for your patience and I look forward to seeing you on Wednesday.
New uniforms have Arrived
19 March 2020
Five new karate uniforms (gi) arrived this afternoon. We will put the badges on over the weekend. You will be able to put them on at the next class!
Class is cancelled tonight
18 March 2020
There is no class tonight a person who works with Senseis wife may have been exposed to Coronavirus COVID-19.

That person has been tested and is waiting for their results.

If the person has been infected, Sensei and his family will be tested.

The risk of infection is extremely low, but as a precaution Sensei and his family have decided to self-isolate.

This means that class tonight is cancelled.

Please make sure you are registered on the website so that Sensei can update you. If you have any problems with your registration there are instruction videos on YouTube. Alternatively contact Sensei on 027 240 2717 or by email sensei@karatedojo.nz and he will help you.
COVID-19: Club Response Plan
14 March 2020
We have just published our club response plan to the Coronavirus COVID-19 on the website. It gives details about how we will respond in the event COVID-19 arrives in our community.

It includes a link to the Ministry of Health COVID-19 web pages, which has lots of useful information.

If you have any questions please contact Sensei Steve.

Visit Website
Coronavirus COVID-19
13 March 2020
We are currently working on a plan for how the club will respond to the Coronavirus COVID-19. We aim to have a first draft of the plan for you to comment on at the next class.

This is just another form of self defence and one of the main aspects of self defence is being prepared.