Everything in News and Events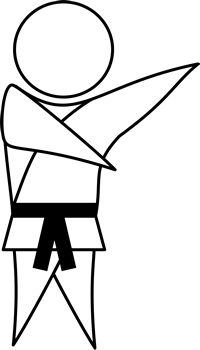 A Date For Your Karate Diary
24 July 2020
Karate has been included as a sport in the Tokyo 2020 Olymics. This is an historic event and the New Zealand Disablity Karate Association aims to be there.
Annual Report 2018/19
12 September 2019
We are starting to gather the information for the clubs annual report. The report will be submitted to Charities Services at the beginning of November.

Club members will be able to see a draft report at the end of October.
September Grading
11 September 2019
Congratulations to our new orange belt (8th kyu) student. You have been training so hard.

Well done!
What does kata mean to you
10 September 2019
Here is a video on what kata is and how it supports training. Is it end game or a training tool?

Watch Video
Our YouTube Channel
23 August 2019
We have just added a link to the club's YouTube channel on the home page.
You will find all kinds of karate videos including how to tie your belt and to create an account to track your karate progress.
New Braille Embossing Press
21 August 2019
The embossing press to add Braille to our business cards and flyers has arrived. This allows us to provide contact details to students who are living with a visual impairment.

It is fantastic!
How to Create an Account
9 August 2019
This video shows you how to create an account on the website. It also shows you how to link to accounts together by using the same email address. This is great for families that only use one email address.

Watch Video
Mailbox drop
29 July 2019
Over the next couple of weeks there will be a mailbox drop around the area. We have had 1000 A6 flyers printed and just need to pop them in peoples mailboxes.

I wonder if we will get any new students joining us.
Your Information
19 July 2019
We have just published our privacy policy on the website. It gives details about how we use your information and what rights you have under the Privacy Act.

If you have any questions please contact Sensei Steve.

Visit Website
Winter Newsletter
15 July 2019
Here is the Winter issue of Ability the New Zealand Disability Karate Association Newsletter.

In this issue Little Blue provides tips on kata Sanchin.

Read Newsletter
Matariki 2019
28 June 2019