Loading...


Everything in News and Events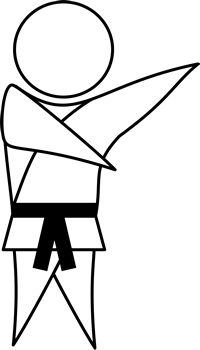 Autumn 2021 Newsletter
15 April 2021
Here is the Autumn issue of Ability the New Zealand Disability Karate Association Newsletter.

In this issue Kuma Sensei and Little Blue take about using the Bo and Kobudo.

Read Newsletter
Writing the April Newsletter
9 April 2021
The April newsletter is running a little late. We hope to have it in your hands by the next class. In the April issue we will be talking about training with the Bo in the second class and how to prepare for your next grade.
Special Easter Class
7 April 2021
On the 7th April we will have our Easter class. Remember to dress up in your favorite Easter costume.

There will be Easter eggs, lolly scramble and lots of games. Can you hop higher than Sensei?

Everyone is welcome both old and new students!
No April Zoom Class
4 April 2021
There will be no Zoom Class this month, because Sensei is going to be at a friend's wedding.

Wednesday classes will run as normal. Remember that the class on the 7th April will be our special Easter class.
Red Puppy Appeal
27 March 2021
I will be collecting for the Red Puppy Appeal from 11am until 1pm outside Khandallah New World supermarket.

I hope we collect lots of money so that lots of guide dogs can be trained.


March Zoom Dojo
7 March 2021
This is a 60 minute online training session with Sensei, which starts at 4pm on Sunday 7th March. Please note the new 4pm start time. You can wear your Gi or not, it is up to you. We will follow the normal class format. If you want to focus on anything let Sensei know and will will adjust the class plan.

There is a special Zoom Class entry for your karate journey.

Enter Dojo
COVID-19: Training at Level 2
2 March 2021
Classes will still be running on Wednesday. We will be following our COVID-19 plan to keep you safe. If you cannot make class there is always the Zoom class this Sunday.

Here is a link to our COVID-19 plan which includes a link to the Ministry of Health COVID-19 web pages, which has lots of useful information.

If you have any questions please contact Sensei Steve.

Be Safe, Be Kind

Visit Website
Our Dojo Gallery
20 February 2021
At the AGM a fantastic idea was discussed and that was to add a Dojo Gallery to the website.
Here is the result of that great idea. Anyone who has an account can publish picture in the gallery. Only the owner of a picture can remove it, but you can ask that person to remove a picture for any reason.

Sensei has already published some pictures from the last couple of years. More will be added!

Visit Website
Annual General Meeting
17 February 2021
We will be holding the clubs AGM on Wednesday 17th February at Khandallah Town Hall at 6:30pm. This is instead of our normal class and will take about half an hour.
We will provide a draft copy of the annual report before the meeting. So if you are unable to attend you can still have your say.

If you have not received a copy of the AGM documents and would like a set please send an email to Sensei (sensei@karatedojo.nz).
COVID-19: Club Response Plan at Level 2
14 February 2021