Everything in News and Events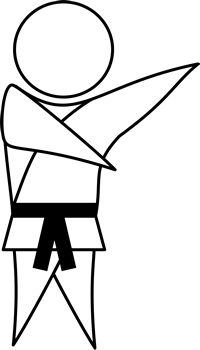 A Date For Your Karate Diary
24 July 2020
Karate has been included as a sport in the Tokyo 2020 Olymics. This is an historic event and the New Zealand Disablity Karate Association aims to be there.
Your Information
19 July 2019
We have just published our privacy policy on the website. It gives details about how we use your information and what rights you have under the Privacy Act.

If you have any questions please contact Sensei Steve.

Visit Website
Winter Newsletter
15 July 2019
Here is the Winter issue of Ability the New Zealand Disability Karate Association Newsletter.

In this issue Little Blue provides tips on kata Sanchin.

Read Newsletter
Matariki 2019
28 June 2019
Matariki is the Māori name for the small cluster of stars also known as the Pleiades or the Seven Sisters, in the Taurus constellation.

In New Zealand it comes into view low on the north-eastern horizon, appearing in the tail of the Milky Way in the last days of May or in early June, just before dawn.

This heralds the Māori New Year. To celebrate I will be training on the beach at Scorching Bay before sunrise (about 6am).
Next Grading Class
12 June 2019
Our next grading class will be on Wednesday 12th June. So remember to practice your kata and your Japanese names for blocks.

Please invite family and friends to help celebrate this amazing first step. Remember to bring your cameras!
Developing iPhone Apps For Fundraising
31 May 2019
We are in the process of opening an Apple developer account so that we can start creating apps that can be sold to raise fund for the club.

The first two apps will be a help you with your karate and will enable you to see how fast you are punching if you have an Apple Watch.
Autumn Newsletter
30 April 2019
Here is the Autumn issue of Ability the New Zealand Disability Karate Association Newsletter. Rather than using a digital voice for the audio version Sensei has read the newsletter for you.

Please let Sensei know which one you prefer.

Read Newsletter
Special class
17 April 2019
Wednesday 17th April will be a special class celebrating Easter and our club birthday. We will be one year old!
Class tonight
5 April 2019
Just to remind everyone that class is on tonight. The focus will be on your kata and getting ready for your next grade.
No Class this Wednesday
27 March 2019
The class on Wednesday 27th March has been cancelled, because Sensei is going to be away that day.

The next class will be Friday 5th April. See you there!
Hands only CPR
12 March 2019
What would you do if you saw someone having a cardiac arrest? Here is one of the best CPR training videos I have ever watched.
Enjoy and maybe save someone's life!


Watch Video
First Karate Black Belt
9 March 2019
The first karate black belt was issued in 1937. Before then there were no black belts in karate.

Watch Video
Next Class
6 March 2019
A reminder that this week class will be on Friday 8th March not Wednesday 6th March. The general class will still start at 6pm and the adult class will start at 7pm.

Hope to see you there
Very First Newsletter
4 March 2019
Finally here is the very first club newsletter. It has taken a while to produce. We wanted it to be readable on any type of device (desktop or mobile). It also had to be accessible to anyone who made use of a screen reader.

We hope you find it factual and fun. We would also like to hear your feedback on how we can improve it. If there are any stories you want published please let Sensei know and we will try to get them into the next issue.

Read Newsletter
New Adult Karate Class
30 January 2019
I am very excited to be able to announce that we are starting a second class.

Our general class will still run from 6pm until 7pm. The new class will run from 7pm until 8pm. The days remain the same.

This new class will be more adult orientated. So no games unlike the general class which is designed for all ages.
Little Blue penguin has a name
17 January 2019